The bottom line is that beneath everyone's anger lies a reason. Although it's a valid emotion on its own, anger often indicates other emotions that need to be addressed or validated. Anger is often seen as more acceptable than other emotions. A person may express anger to mask emotions that cause them to feel vulnerable.
So while anger may be the visible emotion, there will be some sort of emotional pain hidden under the surface and instead of dealing with that pain directly, we turn it into anger as a way to redirect it. In a sense we are using anger to protect those underlying emotions.
The emotional pain under the anger could be many things. Anxiety can be turned into anger. Sadness can get turned into anger. Feeling trapped can get turned into anger. Uncertainty, inadequacy and confusion, or any other uncomfortable or painful emotion can show up as anger.
A single incident of anger might have one underlying emotion, or it might have many different contributing emotions and experiences. Anger 'triggers' are people, places, situations and circumstances that trigger deep-seated emotions.
In this way, anger is exactly like an iceberg – it is easy to observe on the surface, but it has so many other hidden emotions below the surface. We call this way of thinking about anger as the Anger Iceberg Model and we can illustrate it like this: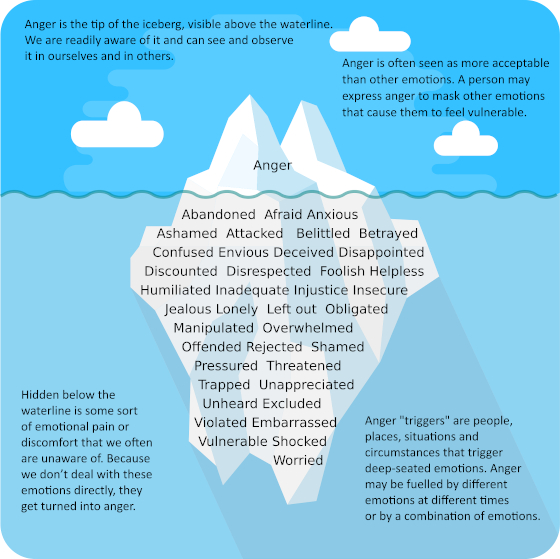 You can download a poster here: Anger Iceberg Model
Read the article Making Sense of Anger.
What Should we do with the Anger?
Although anger is often referred to as a "negative emotion", is neither a positive nor a negative emotion. However, it can be an uncomfortable emotion and we need to be able to understand it, feel it and process it if we want to ensure optimal wellbeing. But, when I say "feel it and process it" I do not mean 'act-out" your anger. Although you can feel angry, it is absolutely not appropriate to be verbally or physically aggressive and violent.
To understand your anger, it is useful to challenge your anger to see what is really going on – what is really making you (or them) angry.
Learning to identify the particular emotions under specific outbursts of anger can be incredibly powerful because it will help you to process these underlying emotions more directly and enable you to express them more openly, which is a healthier response than avoiding them.
You can use your anger as a useful tool to help you understand what's going on for you. When you feel anger rising, ask yourself "What's really going on for me? What's the emotion under this anger?"
With the answers to those questions, you can then make conscious decisions about what you want to do to deal with the situation. You can ask yourself what would be helpful to change - in yourself or the conditions you find yourself in.
So next time you are angry, stop for a moment and try to identify what you are feeling underneath the anger. If you can identify what you are feeling that's triggering the anger, it can help you to better manage your anger and keep you from saying or behaving in a way you will later regret.
Of course if it is someone else who is angry with you, try to do the same; try to identify the real underlying reason for their anger and deal with that.
For more on anger and how to manage it, please read my articles: